Hey my lovely blogging friends!
Long time no talk!
Let's see what's been happening?
Sydney - GB and I took off for Sydney on the midnight horror flight from Perth. I assumed given that I feel like I could sleep on a bed of nails these days that I would be ok to sleep on the plane overnight. It's a 4.5hr flight from Perth to Sydney plus 3 hr time difference so we left Perth at 11.45pm and arrived in Sydney just before 8am. And I didn't sleep a wink. By the time we got to my aunty & uncle's place and exchanged pleasantries I was nearly talking jibberish! GB and I took ourselves to bed and slept for about 4 hours which was great. We took it pretty easy - I've been to Sydney many times before although GB only once for a weekend. We took a drive up to Palm Beach for lunch one day which was nice and we ate at one of Sydney's top restaurants - Aria. After I twittered about it earlier in the day Matt Moran the head chef came up and said hello to us. GB nearly jizzed in his pants he was so excited! We spent a few days some 500km north of Sydney at another of my aunties & uncles place. So beautiful up there, no phone reception, 30km from the nearest town so we just got to kick back and relax. Unfortunately we had torrential rain the first two days and I ended up with a fever for some reason for 24hrs and couldn't get warm. I had GB's tracksuit pants on over mine, plus 2 tshirts, 2 jumpers and 2 coats on. I looked like the michelin man! There's a hilarious photo of me on our camera I'll have to post later. Also I couldn't keep any food down. The next couple of days I felt a lot better though. Back into Sydney and we had a walk around the city (plus a trip to the Lindt Cafe - best thing ever!). I was going to catch up with
LapbandGirl
but the stars didn't quite align - next time for sure!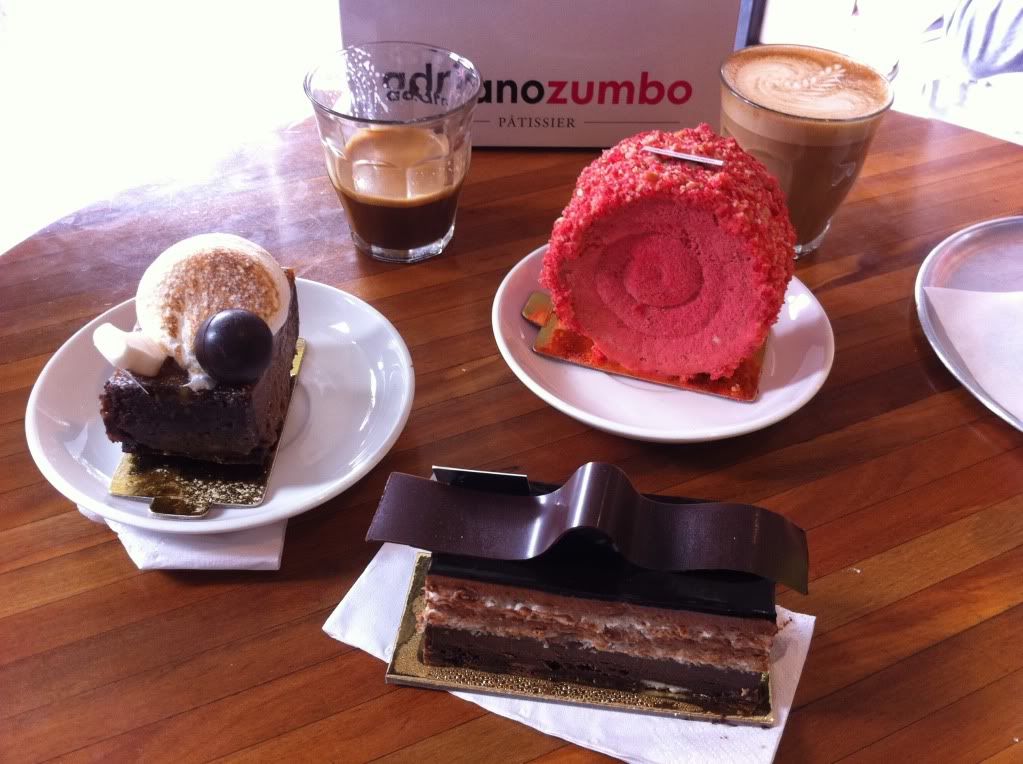 We went to Bondi Beach and had lunch and caught up with an old school friend of mine for coffee & cake from one of the countries best pastry chefs - Adriano Zumbo. Those of you in Australia may know him for his croquembouche and/or macaroon tower challenge in Masterchef. I'm telling you they were the best things EVER. As you can see, food still a big part of our holidaying experiences!! Add to that, my uncle's business is about filling lolly machines so he had big boxes of M&M's at his place. GB now is sure I'm going to give birth to an M&M!!!
Needless to say, I'm far too scared to step on the scales! Now that we're back to work both of us are trying to get into a routine of more healthy eating and exercise. GB is training for that marathon (tried to do 30kms when we were up in the hills but underestimated the terrain and the water he'd need and ended up dehydrated on the side of the road unable to speak. Luckily my two uncles decided to head into town early (we were meeting him at the pub for lunch) and picked him up. He was unable to move from the back of the ute for about 90mins. By the time I got there, he'd been resting for an hour and they'd given him powerade. I gave him some more electrolytes and the lady at the pub let him have a shower and he started to come good. Bit of a reality check for him though! Anyway he's amping up his training with only 3 weeks to go and has sworn off alcohol until after the 5th December! He's also staying off potato chips and noodles - his two favourite food groups. I'm not swearing off any foods... yet (choc detox from 1 Dec til Xmas day in the works though). But going to get more into exercise. Went to the gym last night for 30mins on the bike and will do that again tonight. Pilates on wednesdays and water aerobics on thursdays is the plan. My gym membership expires in a couple of weeks so I'm thinking about doing pregnancy PT once a week after that. Will check out the $$$.
Baby wise - all is going well. Getting lots of movement, mostly at night when I'm lying down. Unfortunately getting awful heartburn for the past week and the Pariet and quickeze not doing the job they usually do. Also getting a side pain/stitch when I walk/bike so keeping an eye on that and not pushing too hard. OB was happy with everything last time we saw him and said all is looking good, baby is a good size etc. The next test to pass is the Gestational Diabetes test which I'll have at 28weeks. I wonder if my M&M diet will impact on this??? hahaha. Got 3/4 names on a shortlist which won't be revealed till the baby announcement. Happy that GB is finally coming around to the names I like - hahaha! Haven't bought that wall art from my previous post... yet. GB said I could though - YAY! For S who asked - it's called the Cocoon Couture Enchanted Tree from the wall sticker company.
Anyway kids, I've gotta go troll all your blogs - it seems I have 159 posts to catch up on so forgive me if I don't comment!