How was everyone's long weekend? We had a terrific one. On friday we organised a picnic with a bunch of our friends on the East Perth foreshore. Took the volleyball net and played on and off for a couple of hours. We all had an awesome time and managed to catch some sun! I have a nice sunglass line on my face now! About 5pm most of us headed back to our place where we played games and singstar till later in the night.
On Saturday, we headed over at about lunchtime to our friend's place to help him finish his floorboards off. I was put in charge of countersinking the nails (something I had never heard of before!) while the boys finished laying the boards. For about half an hour I struggled to counter sink anything! Then I got a groove on for a while and worked out if I gave the punch a good wack to start with, with the hammer then I could tap them in further. After about 3 hours of this, another friend showed up with a mini-mallet that made my life a lot easier! I was steaming through them. We had to leave just after 4.30pm so I didn't completely finish. I did end up with a whopping great blister though! Let me see if I can post a pic of it in here.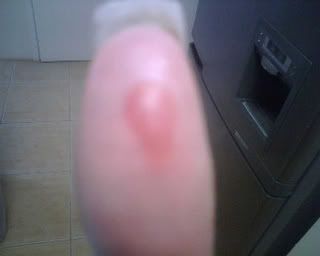 ewwwwwww... Saturday night we went to a friend's place for dinner (she made pasta with vegetables - very nice, I managed to eat half a bowl, GB had issues with the pasta again but I firmly believe it's due to the amount he's putting into his gob!!!) and we played more games. By then my back started to freeze up from being bent over hammering all afternoon. 
Sunday morning and I could barely move! My arms, wrists, back, knees were hurting so bad! We actually managed to sleep in till 10am (pretty unheard of in our house, GB is an early riser!). We veged out for the rest of the morning and then went to the movies to see Untraceable (not a bad flick but fairly graphic). The rest of the afternoon and night we just veged out in front of the tube. Good times.
Update on the PT saga. I spoke to GB and we thought if we could do one lesson - if we want to continue it could come off our 10 session package and if not we'll just pay the $35. Missed the chick's call on Thursday afternoon as I had a half day to go get my hair done (new colour - have gone dark after about 4 years as a mostly blonde - big shock to GB!), so I have to call her back today.
Exercise wise, went for a couple of long walks over the weekend plus volleyball fun on Friday afternoon. Back to the gym this week though. Get back into that routine.
Weight - As of yesterday I'm still the same - not bad considering we've been doing a lot of socialising this week which has meant lots of cheese & dips! GB is going really well and has lost about 14kgs all up I believe. He's starting to look like a kid wearing his dad's clothes!